A few things about our boy:
Born in Missouri, adopted in 2004 as a companion for Chloe.
We've had him five years. His previous owners wrote down his information.
He chewed on his feet when we got him. I did some research and took him off of Iams dog food to see if he was allergic to corn. He stopped chewing his feet.
He eats canned dog food with boiled chicken and a little broth for dinner every night. If dinner is late, he'll let me know by whimpering or whistling. I look at the clock and realize he wants his supper. I free feed dry, but he only eats a few bites a day, if that. He gets dog bones, biscuits, or a dog cookie when he comes in from outside. He goes straight to the kitchen and sits for his treat. A few nights a week I give him a small bully stick in the evenings while we're watching TV. He could stand to lose 5 pounds, but he's not as active as he used to be.
He likes all white cheese, but not American cheese. He doesn't mind if you pass him up because he'll usually spit it out.
He likes getting his picture made, he's my camera hound.
He LOVES the smell of perfume or lotion. If you smell sweet, he'll be all over you!
He loves getting pampered: baths, blowing drying, and brushing.
He doesn't mind the rain unless it's really pouring down and windy. He loves snow, but may never see it again because we live in the south now.
He has no fears or phobias.
He has good recall. I'm not afraid that he'll run off.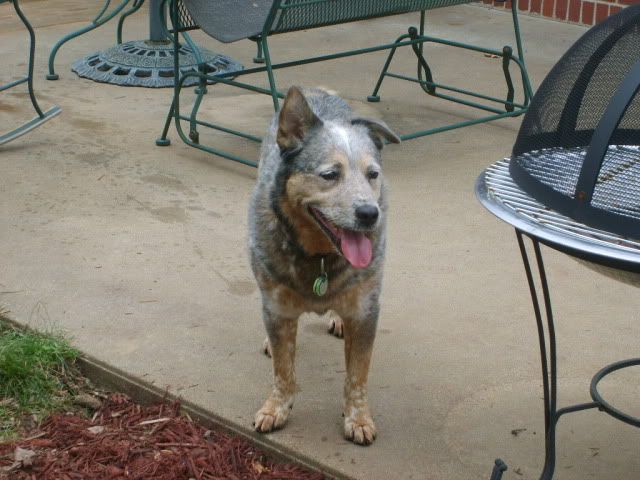 He blows his coat at least twice a year - which means lots of brushing.
He used to play with stuffed toys, but not so much anymore.
May 2006, Abbey's first day home.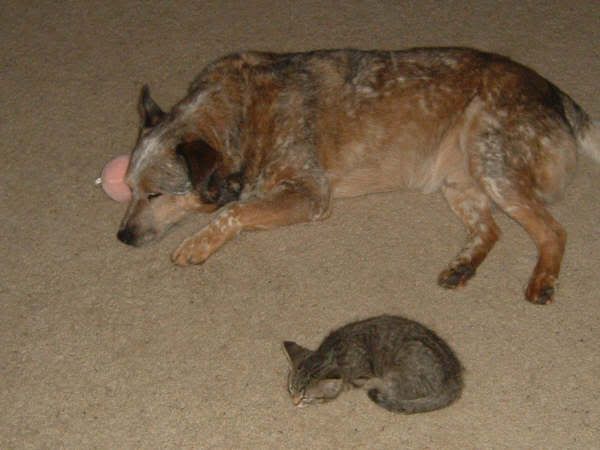 He will not chase a ball - he will chase the dog that is running after the ball.
He breaks up play wrestling between the other dogs by rushing in at them.
He sticks his muzzle down in the water bowl and dips for drinks. I have never seen him lap up water like other dogs.
He walks through the pool almost every time he goes outside. He has never laid down in the water to cool off, he just stands there cooling his feet.
His favorite playmate is Bonnie, Chloe comes in second place, but he loves his Bon Bon.
He licks Bonnie and Toby's ears. It appears affectionate, but can cause ear infections or inflammation so I stop them if I see it. The dogs go to him and lie down because it feels good for them.
He enjoys walks. He can hardly contain himself when we open the closet where the leashes are. He will pull out the door, but once he's walked a little he's a good walking buddy.
He barks when he hears anyone at the door, even when my children come home. He will not bark when my husband or I come home.
A stranger can come into our home and Sam acts like they are here to see him. He's very friendly.
He LOVES to ride in the car, but his tongue drips on me out of excitement, not slimy slobber though.
He loves the attention at the Vet, but starts to cry like a baby as soon as they lift his tail for a fecal. The Vet tech usually laughs and skips that test!
This year we discovered a fatty tumor on his side. He laid in the floor on his side and let the Vet do a needle aspiration. He didn't budge. They love him there because he's so good.
He's good with other dogs, but corrects Lucie, a Boston Terrier, that comes for play dates. She gets overly excited and bugs the crap out of him and tries to mount him. He has been wonderful around fosters and rescues.
He wanted to be near Darlin' when she had her heartworm injections. You can see in his eyes he knows something is wrong. It was aweful for her.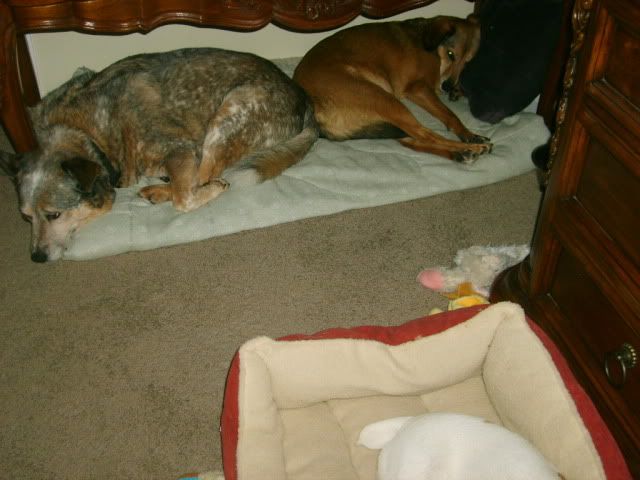 Sam has never wet in the house. He had one accident not long after we got him. He and Chloe got into an old garden spot at their new home. I think they ate a rotten squash and it went straight through them. I walked in the kitchen the next morning and Sam held his head down. I said, "Oh Sam." Poor thing, I could see he was very sorry. It was an easy clean-up on tile. He has never had any other accidents in the house.
He has never chewed or destroyed anything.
We went to the St. Louis Arch in August 2007. We left Sam, Chloe, and Bonnie outside all day. They had a fresh bucket of water and the pool was full of fresh water. We arrived home about 8pm and they were dying to get inside. Sam came crashing through that door like he had seen his last day outside! I checked and all of their water was hot! So I'm sure he got hot too! I could barely get him to go outside for a month afterwards. He ran to the grass and did his thing and no sooner did I slide the door closed he was on it ready to run inside. There we're a few times I had to push him back out! He was traumatized out in that heat all day!
He sleeps on his orthopedic mattress in the living room, stretches out across the hall a lot, and sleeps on the leather sofa in the TV room, as long as someone is in the room with him.
He will whistle through his nose if we are sleeping and he has to go out. He used to sleep all night, but this past year he wakes my husband between 3-4 am to go out. I think as he ages he may not be able to hold his bladder as long.
He's been slowing down over the last year. It takes him longer to go up and down the stairs, but occasionally Bonnie will get him to chase her around the yard which is always nice to see.
Sam is a good boy. He listens, obeys all of us, and is just an easy going dog with no issues or demands whatsoever. Dad loved him the first time they met. Sam really loves his Dad, but he is affectionate with everyone that he meets. If you scratch his head, he'll turn over and give you his belly.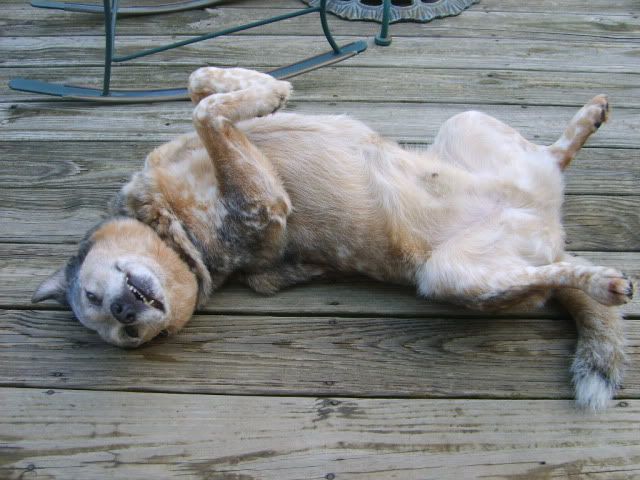 We love you, Sambo!