Tomorrow is a special anniversary for me. Mom has made it my birthday too because my new life began on Saturday, February 21, 2009.
The post is long, filled with many details, but we want to share our story for those who will take time to read it.
A year ago Mom saw three Terriers on Petfinder that were out of time and listed as Urgent. Mom found rescue for two of the Jack Russell's and only had to find a spot for one. Mom already had three dogs at the time, plus she had, Jack, a foster dog, and she was trying to figure out how to trap a stray dog (Darlin') that she had been feeding. Mom was also trying to find a home for Skip, Jacks housemate that was being boarded at the time. Mom called the shelter and told them she couldn't make the trip until Saturday, but to please hold the dogs for her.
Jack, moms foster dog at the time.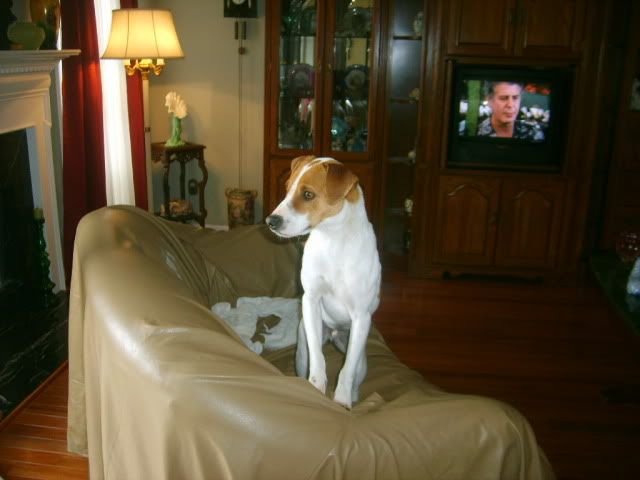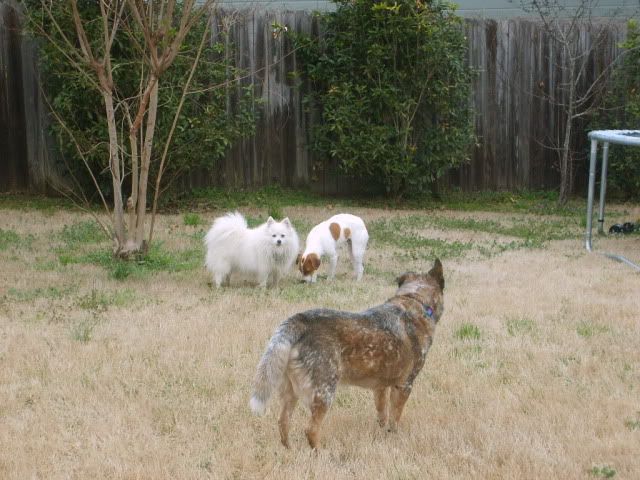 The day before Mom made the trip to Tennessee she received an email that Grady, the Fox Terrier, was adopted so she only had to pick up two dogs.
The links are still there and that's what made Mommy get all emotional.
http://www.petfinder.com/petnote/displaypet.cgi?petid=13042539
http://www.petfinder.com/petnote/displaypet.cgi?petid=12967638?rvp=1
http://www.petfinder.com/petnote/displaypet.cgi?petid=13048928?rvp=1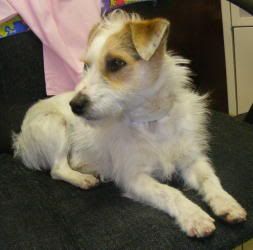 More About Toto
Toto is a real sweetheart. We think he is a young adult his teeth are very clean. He loves to be held and near people. He needs a loving forever home with someone who will keep him as a faithful companion. He is very unhappy and lonely here. Dogs at the shelter do not have long. If you see an animal you are interested in, please contact us as soon as possible.
More About Laurel
This a sweet loving and giving dog. She will give you unconditional love and affection. She needs a forever home that will keep her inside and allow her to be a lap dog! Dogs at the shelter do not have long. If you see an animal you are interested in, please contact us as soon as possible.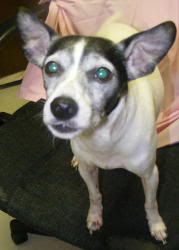 More About Grady
Grady is a super sweet adult male. He loves to be held and loved. He will make an awesome indoor companion pet. If you are looking for a lap snuggler heres your boy! Dogs at the shelter do not have long. If you see an animal you are interested in, please contact us as soon as possible.
I remember the day Grady left. I was scared and lonely. I use to bark a lot hoping they would come get me out of there. I couldn't see much because there were walls around me, but I could watch people walk by. The floor was cold and I didn't have any soft babies or anyone to keep me company. A nice looking lady walked by my kennel talking to the lady who worked where I was living at the time. She stopped and talked to me while the lady that worked there told her all kinds of really nice things about me. But then they kept on walking until I couldn't see them anymore…
Later that day the lady that worked at the shelter took me out of my kennel and put me in a dog carrier. I was so scared. I didn't do anything wrong! I didn't know why they would do that to me! Then she stopped and took another dog out of her kennel and put her in a dog carrier. She was scared too. The shelter worker called her Laurel. She picked us up and walked us out of the building and put us in her car. I thought we were going home! Finally!!!
We arrived at another building and she carried us inside. She handed us over to some nice people wearing bright colorful uniforms. The lady took us back to a room and took us out of the dog carrier and put us in small metal cages. Oh no! I thought, not again!
Later that evening when the building was quiet they came to get me. They poked me in the leg with a sharp needle and I don't remember that night at all. In the morning I woke up feeling kind of woozy and sick. I started barking for them to let me out of there, but my voice had changed! I went to sleep, exhausted, stressed, and unsure about what was going on.
In the morning, the lady that poked me in the leg the night before came to get me and Laurel. This time she didn't put me in the dog carrier, she carried me out into the lobby! Oh how I love to be held! As she walked out with me, I saw Mom standing there. Mommy had her sister with her and she was very excited to see us. Our eyes met and I knew that Mommy was there because of me! The lady carried me out to Mommy's car and put me in another darn dog carrier, but something felt right now so I was quiet and calm. The woman told Mom that she thought I had been de-barked because my voice sounded weird. I had a sore throat from barking because I was so afraid, but no one knew that! Then she put Laurel in the other dog carrier in Moms car and she didn't make a sound either. Mom thanked the lady, offered us a dog biscuit, and drove away with me and Laurel in the back.
We were in the car about 45 minutes when I got sick. The hills of Tennessee wind through the mountains, plus I didn't have my strength back from the night before. I heard Mommy tell her sister that she needed to pull over and check on us, that she thought one of us got sick. Mom pulled over and told me in a soft voice that everything was going to be okay. She took the towel out of my kennel and put a fresh one in for me. She kept driving and we remained quiet as a mouse.
Mom stopped a little while after that and met with another nice lady. She said we were really cute. They exchanged some papers and that lady put Laurel in her car. Mom's sister, Brenda wanted Laurel. I heard her call her husband and ask him if she could adopt her, but she was disappointed when he told her they needed to make the decision together.
Then Mom stopped again, but this time she stopped at a place that smelled so good! She took me out of the carrier and let me go potty. She poured me a bowl of water and I drank every drop because I was so thirsty. Mommy handed my leash to her sister and she went inside. She came back out and unwrapped the most wonderful smelling sandwich and gave me all of the roast beef! Then she tore up the bread and I ate that too! I snatch it out of her hands because I hadn't eaten in 24 hours! I knew I must be in heaven now! If riding in Moms car meant I was going to eat roast beef, I was going to be on my best behavior!
After I ate she put me back in the carrier and we drove a long time to her sisters house. We got out of the car and took a few pictures. Mom's sister didn't have a dog, but she had a dog bed so she went inside and brought it out to me! I loved it right away! Brenda carried me to Moms car in the dog bed and put me in the front seat this time.
Brenda and me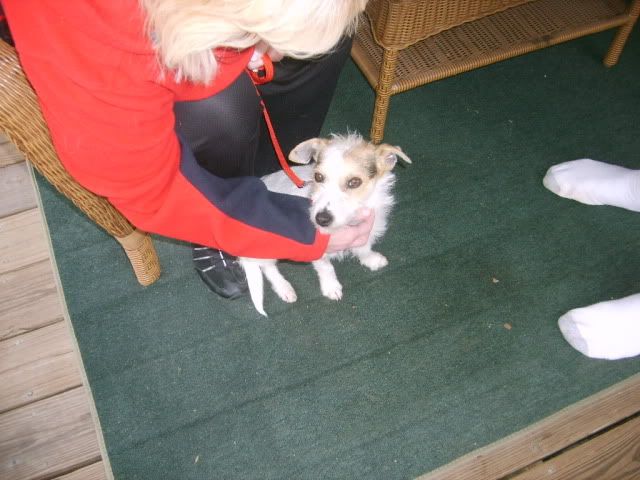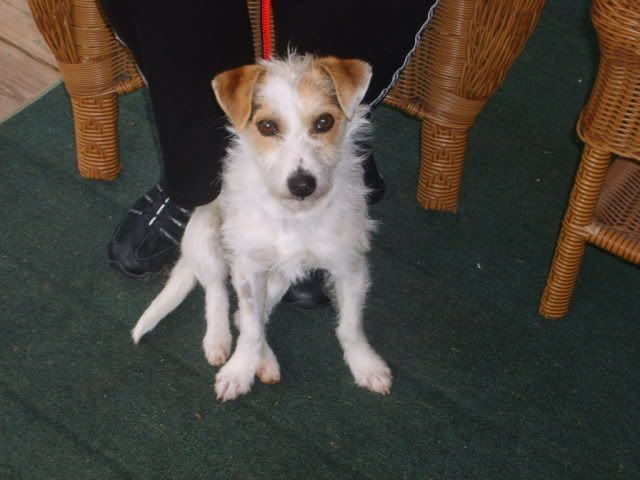 Mom told me to lie down and rest because we still had a long ride ahead of us.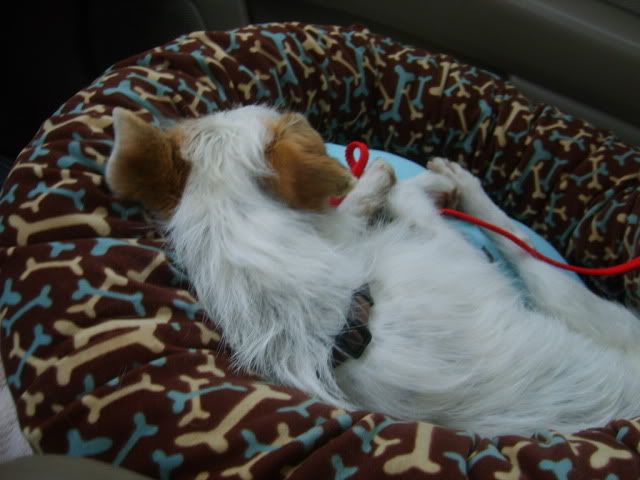 It was dark by the time we got to Mommy's house. She had been driving 11 hours that day and we were both worn out. This time she didn't carry me, she let me walk inside on my own. Sam, Chloe, Bonnie, and her foster dog, Jack, greeted me at the door. I saw Daddy across the room with a big smile on his face, but all he said was, "Oh my." I knew I was home, I just knew it!
I found a spot under Mommy desk so I could be close to her when she worked. A few days later when she realized I was going to lay there a lot she put a bed under there for me.
I still had betadine stains on me.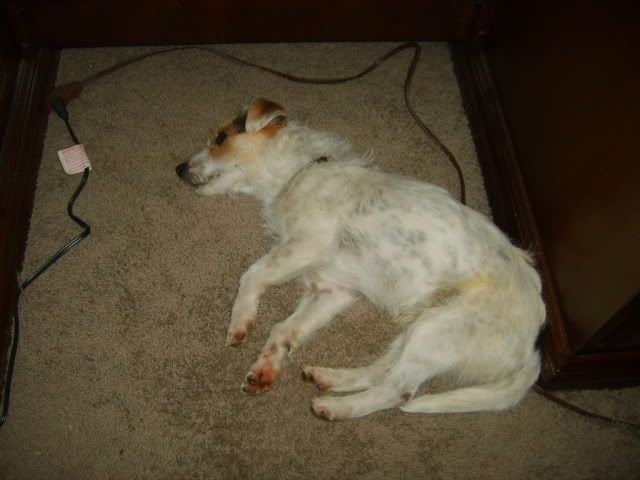 I was here just three days, when one night I was laying on Mommy's lap while she watched TV, Mom looked down at me with tears in her eyes, and then she looked over at Daddy and said, "Can we keep him? I promise I won't keep anymore." Daddy said, "I knew he would never leave when he walked in the door." Mom gets all emotional when something touches her heart, so she started crying!
But that's not all!
Mommy couldn't understand how I became a stray. I was at that pound ten days so she thought that was enough time for my owners to find me. Besides, I was picked up in a very small town so it shouldn't have been hard to find a lost dog. Mom knew if she had a dog that got lost she would search everywhere and never give up hope. As much as she was falling in love with me, she wanted to make sure that no one was looking for me.
So she began searching lost dog websites and Craigslist and look what Mommy found…

"I was picking up my kitty from the vet the other day, and in walked a woman with scrubs on. She was just getting to the vet office and turns out she was from animal control. Next thing I knew, she was bringing in two crates...each filled with a precious Jack Russell. Turns out that she was bringing them there so a rescue could pick them up after they got fixed. The first one that came in was sooo soo hyper in his little crate! He just seemed so happy. It filled my heart with joy--this little guy was no longer on death row. And it seemed like he knew it too! Ya know, he was like "I'm free! I'm a free man!" It was so heartwarming. The next one that came in was a little more timid, like she was saying "ok I have no clue what's going on...nervous.." I don't know if it's just me, but this really touched me. The Jack Russell rescue was taking in these little guys. You know most times, the rescues still have to pay the shelters to get an animal out...and they only care about the animals. So in my opinion rescues are a blessing! Thank you rescues everywhere for saving innocent little prisoned animals!!

So Mommy replied to this message…
Was this at Anderson Clinic? Your post sounds like my rescues that I picked up from there after they were altered. I picked up two, a broken coat male and a smooth coat female. Let me know, I'll send you a picture.
And the lady wrote back…
YES! It was! I'd LOVE to see some pics; these dogs were just TOO TOO precious! :-)
Mommy wrote her back and she sent pictures of me. She also thanked this lady for her kind words and mentioning how rescues work with their own funds to save dogs and cats.
Mom renamed me Andy. Daddy said I needed a good Irish name since England and Ireland are where Jack Russell's originated from. A few days after naming me Andy, Mom found out that her foster dog, Jack, and his brother, a shepherd/husky mix, which was being boarded at a vet's office at the time, was dumped at the local kill shelter by his owner - a man named Andy! Mommy quickly renamed me something that wouldn't remind her of that guy!
And guess where Jack went to live? Moms sister and her husband decided to come visit Jack just two weeks later! Jack was easy to care for, no issues whatsoever and completely house trained. He would sometimes go 10 hours without having to potty. He never barked and was very affectionate. It had been years since they had a dog so Jack was a good match for them. They adopted him and gave him a forever home!
Here's Jack with Brenda's grandaughter who loves him very much!
Daddy found Skip a home with a co-worker about two weeks later. Skip took the place of a dog that died of old age. His friend was very sad and lonely without him so Skip still has a friend to live with.
Mom took me to the vet to have an x-ray because I carry one leg up and I didn't have any muscle tone on my back legs. The vet told her I had a fractured hip at some point that had healed and he thought I might be two years old, but he was sure I was young. I weighed exactly 11 lbs then, but I was very thin and you could feel my bones. Since then my teeth show a little more age and I now weigh a whopping 13.6 lbs! Some of that is muscle too! Mom is pretty sure I'm two years old now, so I was right around a year old when she found me.
Mommy wanted another Jack Russell Terrier, but she didn't want to rush into anything because Bonnie is a dominant female and it would take a special dog to get along with her. Mommy also wanted a Jack Russell with black markings, one with a mask over one eye. Mom does believe that we get the dogs who need us, not necessarily the ones we want. I'm glad Mommy wanted me because I needed her. Some people might call me a foster failure, but my Mom calls me a blessing.
So that's my story! I hope you enjoyed learning more about me!
With love, Toby