Hi Everyone! No, we didn't fall off the face of the earth. Mom has had a lot of work and little free time for posting. She sure takes a lot of pictures though and she made a few videos too. Special Thanks to our furry friends that stopped by to check on us.
Our weather is warming up, although we just went through two full days of rain with cold wind so we slept a lot. You can even see green patches of new grass coming up in our yard, a sure sign that spring is just around the corner.
Mom was able to check in with many of you, but hasn't commented because it took time. She hopes to have more time to blog soon, but she is thankful for her work. We are all do for our annual check-up and shots, plus Mom may have the mobile vet come again to check if Darlin' is free from heartworms. We sure hope so!
The
OP Pack
gave us our first
official
blog award! They named us! It's the
Showing Some Love Award
! Our Mom's heart just swelled up with love! She's a sensitive type and we are still kinda new to dog blogging so that meant a lot to her. Thank you so much Phantom and Thunder for thinking of us and making us feel warm and fuzzy inside as you spread your love throughout dog blog land. We love you both and your Mom!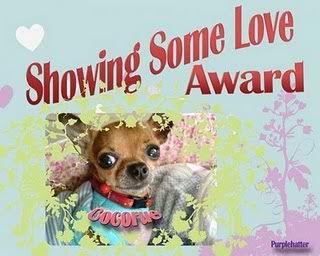 Please copy the image, save it to your computer, and add it to your blog. We would like to show our love by offering this award to everyone that stops by! Our friends deserve the special attention! That's you!
To kick off a new week and hopefully a few more posts during February, Mom made a video of dinner at our house. Some nights are quieter (a lot quieter) in the kitchen than others, but this is our routine.
In the video Mom was mentioning what she feeds us. She has changed our food since the first of the year. She always free feeds dry, which we graze on a little if we get hungry. You know we don't eat much dry because a 20lb bag of dry lasts almost 6 months. At dinner Mom was feeding us two large cans and one small can of wet food divided up between five dogs, with portions adjusted for the size of each dog.
Mom boils chicken at least once a week. She saves all the broth and tears all of the chicken off the bones. We get chicken and broth over our canned food for dinner, but just a little to enhance the scent and flavor.
Recently our Mom decided to switch things up a bit. She now puts a thin layer of dry in each bowl and pours some broth on top to help moisten it. That has helped to cut back on one large can of food, saving about $38 a month. We'll go through more dry now, but the dry food will go further. We don't mind. We still get the chicken and broth and it adds a little crunch to our meals which is good for our teeth and slows down Sam and Chloe a bit, the two dogs that eat the fastest.
Mom was really disappointed in some beef pizzle she bought last fall. She bought 12 lbs and if you've ever bought pizzle you know how expensive it can be. Well Mom put it in a Tidy Cat plastic container with a lid. Last week she wanted to fill our treat jar and the pizzle smelled awful, more than it usually does. It was full of bugs! They were probably in the pizzle when we got it, not from a bucket in the pantry, we don't have any bugs in there. They were weird looking too, similar to a furry rolly polly. Somebody at the dump may like it, but Mom was disgusted and said that she doesn't care if we're dogs, she's not giving us treats that had bugs!
Here are a couple of videos from dinner time at our house. Watch the mean ole' cat we have slap Toby in the butt! Poor Toby, it happens when he's not looking!
We'll try again tomorrow on the second video, blogger is being difficult.