Earlier this year I re-homed two rescue dogs that were taken to our shelter/pound after the owner decided it was easier to turn the dogs over to animal control than it was to fix his fence. The Jack Russell was pulled on his last day and lived in my home for two weeks. His friend, a Shepherd/Husky mix, had to be boarded a couple of weeks or he would have lost his life there. During a conversation with the woman that pulled the dogs, she said something about "where people live". I told her that a dog doesn't care what kind of house a person lives in, just that he has a home where he is loved and provided for.
I love this photo. It reminds me of what I felt the day during our conversation.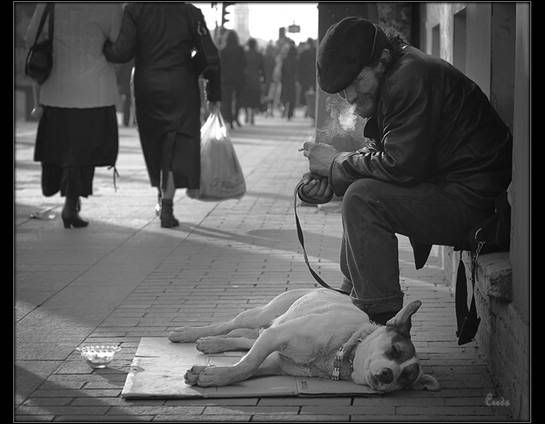 Your dog doesn't care where you live. Your money and success means nothing to your dog. Your dog doesn't care what kind of car you drive or if you have transportation. He doesn't care if he eats steak or if he eats dry, he just wants to be fed. Your dog doesn't care if he has a toy - a stick or an old shoe is fine. What's important to your dog is that he has you to love and that you love him back. When you love your dog, everything he needs will be there.
Both dogs are well provided for today. The Shephered/Husky took the place of a dog that had died. His new friend had been grieving the loss of his buddy. They are doing well together.
The Jack Russell Terrier was adopted by my sister. He is her first dog in 9 yrs. When we talk I can't get a word in because all she talks about is Jack. He probably doesn't realize he's a dog anymore!