This is framed and hangs in our foyer.
Bonnie, our smooth coat Jack Russell Terrier, will be 3 yrs old on Sunday
Oct. 18, 2009
. I would like to share with you how she came into our lives and how her life had already been woven into ours before I met her.
Our dog Daisy, an Australian shepherd mix, left for the bridge May 15, 2003. She was adopted from the Humane Society at age six and lived with us for 10 years. By October I was determined to get another dog and fill the void in our home. My children asked for a small dog that was cute and fluffy. So I found Chloe, an Eskimo Spitz, in the newspaper and didn't realize until after I was standing there looking down at her that I was at the wrong house. I was supposed to be looking at a Shih Tzu - so I thought. I remember thinking, this isn't a Shih Tzu, then I realized I was at the wrong address and had the dogs confused. I wrote the adoption check and left with Chloe. That was
Oct. 18, 2003
, Chloe was 11 weeks old.
We relocated to Missouri in August 2004 with Chloe, our cat, and my new husband's two cats. We stayed in temporary housing for two months while we looked for a home, but Chloe and the cats stayed in a local pet motel. Chloe was not an easy puppy. She was hyper, ran as soon as you opened the door, didn't listen, got into everything, and even nipped at me when I ignored her. Puppy hood with her was a whole new learning experience for us!
She was just over a year old when we moved and she was finally calming down some. The owner of the Pet Motel suggested that we get another dog, perhaps a medium sized dog because Chloe was a dominant female and they thought she would do well with a companion. I had never lived with more than one dog, but if it helped Chloe having a companion then I was up to the task.
I started looking right away even though the animals were at a pet motel. My husband did not have a dog since he was a child. He had been married the first time for 27 years and his wife didn't allow any animals whatsoever. So I asked him to do some research on breeds and find a dog that he might like to have. He decided on a Blue Heeler.
We looked for a new house and a new dog at the same time. I found a couple of blue heelers, but by the time I got to them they were transported out of state and one was at a foster home that didn't think she was ready to make the transition. I decided to call around to local Veterinarians offices and check to see if they knew of one. That's how I found Sam. Sam needed a home because his family had a new baby. Whatever - their loss, our gain. We visited with Sam and loved his temperament right away.
We found a home and were closing that week so we asked about adopting him and taking him home right after we moved to the new house. Sam went to the pet motel and spent one day and night getting to know Chloe. They both went to their new home together the following day. I put two and two together much later; Sam was adopted on
Oct. 18, 2004
! Exactly one year to the day that I adopted Chloe! They were a great match for each other and we realized that two dogs were definitely better than one for us.
Moving forward to January 12, 2007.
Our 18 yr. old daughter had been asking for her own dog for a couple of months. In December I agreed she could get one, but it had to come from a shelter. She found a JRT puppy that had been purchased for a three year old and turned in to the shelter because it was "too wild." Interesting, the dog was too young to be adopted out! We went to see this puppy and agreed she could adopt him when he was ready to go to a new home, but there were several people interested and they had already put in applications to adopt him. The shelter suggested my daughter fill out the adoption application in case no one showed up on adoption day. She went to visit this puppy every day after school and we visited as well. Three weeks later, on adoption day, I checked her out of school early so that we could be there when they opened the gates. She bought him a black bow-tie collar, a new leash, and a new toy believing she was taking him home.
The procedure was to call out those names that put in the applications first. The first name was called and no one spoke up. Our hearts jumped with anticipation. Then the door flew open and a man rushed over, signed the papers and walked back out the door, without greeting his new puppy! Our daughter was devastated. I suppose the man taking ownership was on his way back to work, but my daughter with tears in her eyes went outside and handed him the items she brought for the puppy. He thanked her and left. She went inside to say goodbye to Opey. It is with tears in my eyes that I recall that day and how heartbroken she was having to leave without him.
Outside I hugged her and told her that is wasn't meant to be. That for some reason little Opey wasn't meant to be a part of our family. She said she understood that, but she was upset and crying. She had already bonded with Opey and had her heart set on bringing him home.
Within a few minutes a shelter worker came outside and told her that they had Opey's breeder's information and maybe she could get one of the puppies. She declined, telling him she couldn't afford to buy a dog from a breeder. He went back inside and came back with two other people that worked at the shelter. They told her that if she wanted one of the puppies from the breeder that they would help her get one. I was shocked, mentioning to them that they had 50 dogs inside needing homes and they were wanting to help her get a breeders dog. They felt bad for my daughter, they had grown to know her over the 3 weeks she visited with Opey. She thanked them for their kindness and decided to wait.
I went home feeling so bad about what happen that afternoon. It hurt me to see her so sad. I thought about if for a while and decided to call the shelter and get the Breeders information to see if they had anymore of the puppies. I called and they had two left so I arranged to go see them. I called my daughter home and told her we were going to get one of Opey's litter mates.
It took a while to find these people with the dogs. They lived about an hour away from the town we were in. They were in an isolated area out in the country, so isolated that there were very few road signs and so far out I lost my cell phone signal. Finally I saw a trailer and a barn back in some trees and figured that must be the place. As I turned down a dirt road approaching their home I got a knot in my throat and my heart started racing. I saw a rabbit hutch in front of my car with dogs in it! I got out of the car and the first words out of my mouth were, "How long have you been breeding JRT's?" The man said, "Oh, about 4 or 5 years." I felt sick, nervous and anxious, I didn't know what to do, but I knew breeding dogs confined in a hutch was wrong! It was not clean, they had no food or water, and with six dogs inside it made sense that they would compete for any food they received. There was only a small divided cat food dish turned over with 18" of poop underneath that cage!
I asked to see the dog with the brown face, but honestly I could barely concentrate because I couldn't believe I was standing in front of a rabbit hutch with dogs inside! Then kittens, a couple of litters of kittens started coming out of nowhere. They were under my car, beside my tires, all over the area. He pulled the puppy out of the hutch and handed her to my daughter. She clung to my daughter having never been out. I paid for the dog, the man handed me some papers, and we left. I asked my daughter to watch and make sure I didn't run over a kitten as I backed out. The guy said, "Don't worry about it, we have more."
Once home I got on the phone and started calling everyone I could think of for help, including the JRT Society. The breeder lived in an area with no Humane Society or Animal Control and what I did hear about breeding dogs in Missouri didn't leave me feeling hopeful for the possibility of those dogs getting out. That night we had 6" of ice followed by 13" of snow accumulated that week! I don't know if anything was ever done about those dogs or their living conditions. I beat myself up for a long time for not taking the other puppy and the 4 adults that I left behind! That ordeal has weighed heavy on my heart. I'm a different person today and I know I would take them all given the chance.
first night home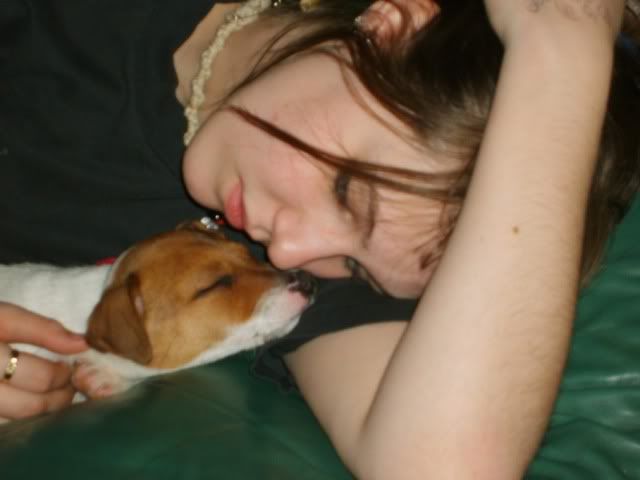 third day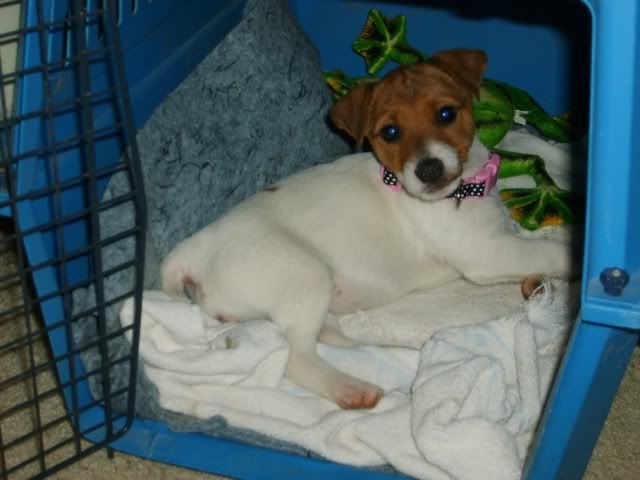 Bonnie was in our home a few weeks when I decided to organize a stack of papers that had been piling up on my desk. When I found those papers I had been given I looked over them to see what it was. There were two sheets of paper with information on her family tree and the paper where they had docked her tail and given her shots. Lo and behold I saw her date of birth listed as
Oct. 18, 2006
and I was stunned!
October 18th
again!
First week, first snow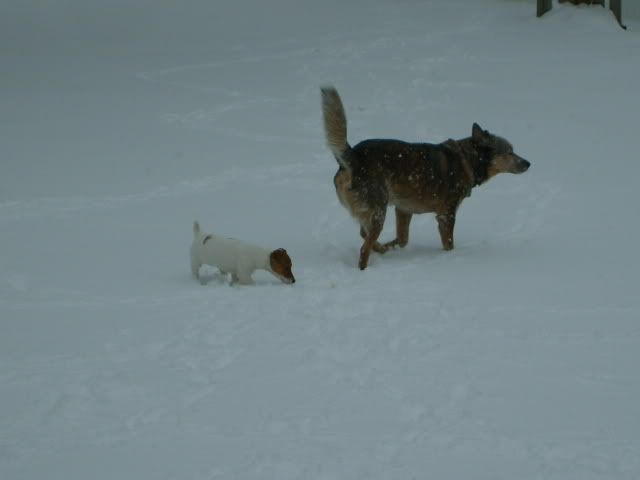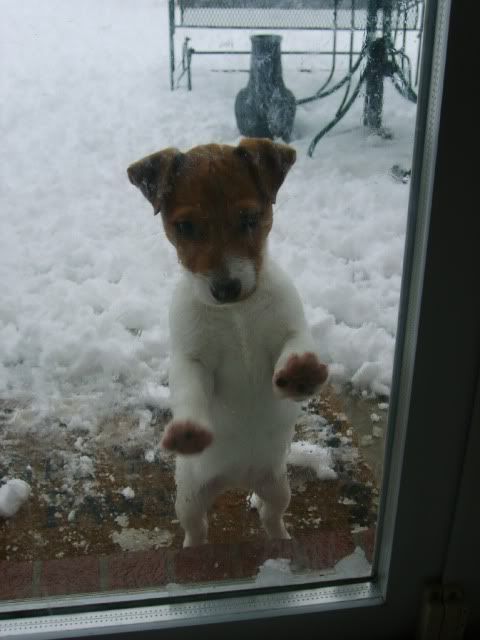 I have fallen head over heels in love with Bonnie! Because my daughter was in high school and I stayed home, Bonnie bonded more with me and has become my dog. She is not very affectionate, not a licker or cuddler, but she sleeps with me and loves to lie at my feet when I'm watching TV. She tries to push off when anyone holds her. She does not like to be held, either because she has some anxiety of heights or because she was not held in her first weeks of life. Unless she is outside, she's usually someplace close to where I am, however her favorite place to be is outdoors hunting. She was my first JRT and she is why I could not go through life without a Jack Russell. She is the reason I became a rescue transport volunteer, a dog rescuer and foster mom. Sam, Chloe, and Bonnie were obviously meant to live together or it's just a coincidence that
Oct. 18th
is a significant date in their lives. They have since relocated from Missouri and living happily in Alabama.
4 months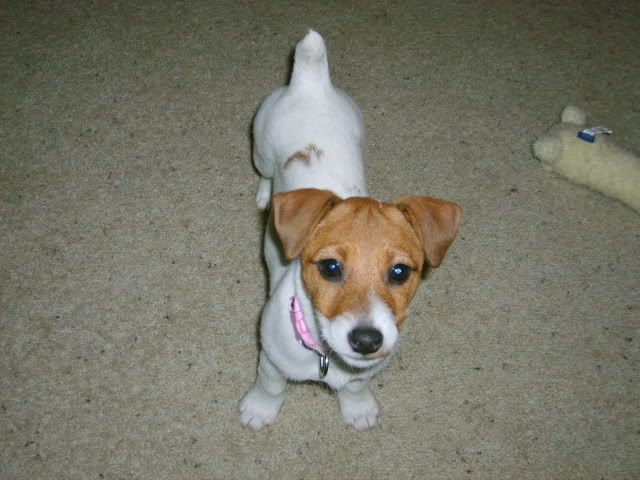 1 year, with her mouse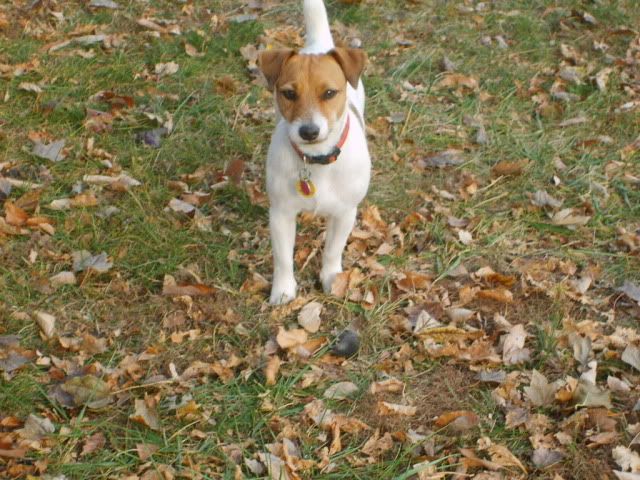 1 1/2 years - She's not very tall, but she can catch a Frisbee!
2 yrs old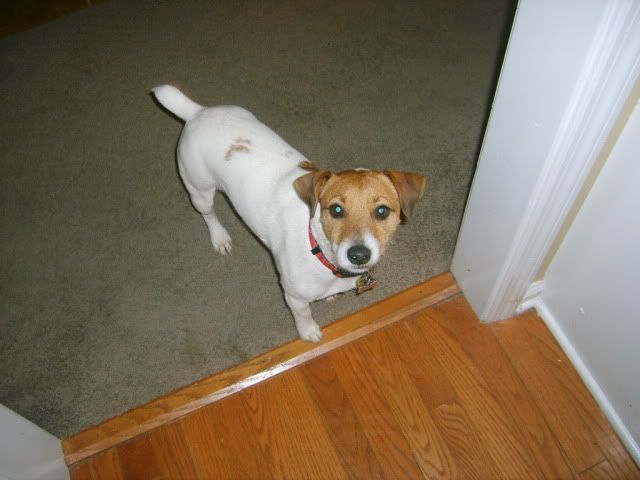 3 yrs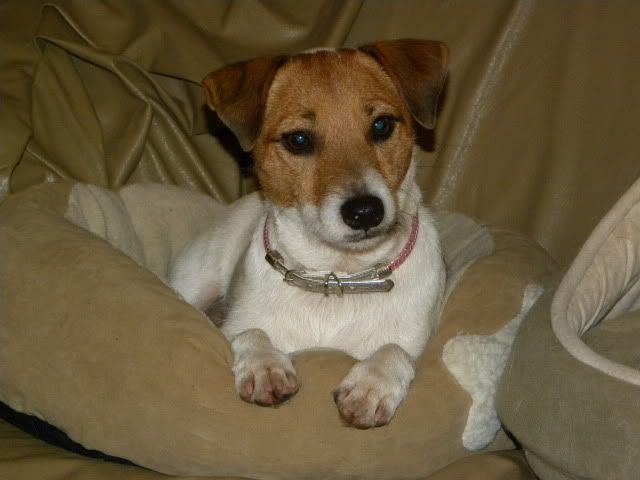 Happy 3rd Birthday Bon Bon!