Moms been busy with work, but we get to be with her because she works from home.
Wonder if we're going outside or if she's just refilling her coffee?
Dad was putting a light up so Mom can see the bottom steps at night.
Sam always wants to hog the camera.
Bonnie has turned into a rock hound. Mom thinks she smells frogs on some rocks because she's started obsessing over them. She carries them, licks them, and barks at them too! Mom did some research and says she might have to rub Vicks Vapor Rub on the rocks so Bonnie will leave them alone. We might be getting a minty fresh yard!
The folks down south had a lot of rain two weeks ago. Some roads were washed out and there was flooding in three states. We spent a lot of time playing indoors.
Bonnie and I (Toby) always see who can hold their head the highest - then it's on!
Dad says we look like we're jousting.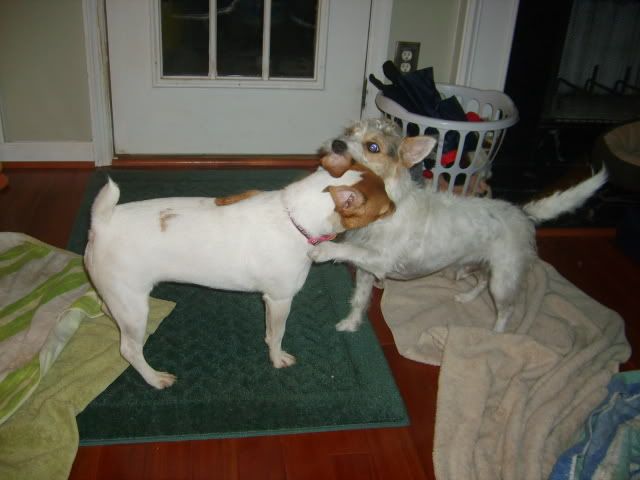 Moms calls my sis a cat dog.
I can walk across the back of the couch too, but I only do it to get to Mom without stepping on Darlin' or the cat.
Mom took this picture of me. She said I look like I'm daydreaming. I hope you like it.
Until next time my furry friends. Love Toby